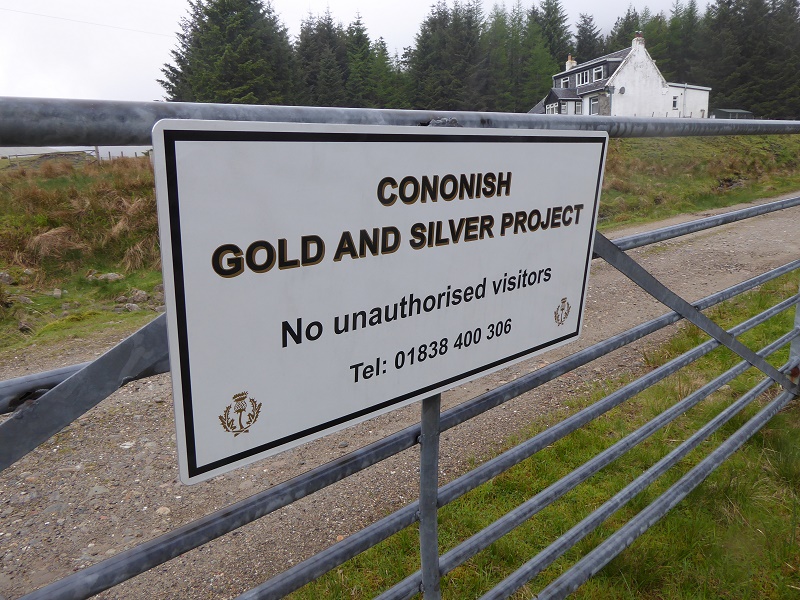 On 7th December, the same day that Bill Stephen's objection to the Cononish goldmine planning application was published (see here), Scotgold Resources lodged an Addendum to their Environmental Statement,  a document which in turn included another five 5 addenda of its own.   A  a few days later, on 13th December, they lodged a response to the objections made by myself and Mountaineering Scotland (see here). Both documents appear to have been lodged in the expectation that the Loch Lomond and Trossachs National Park Authority would shortly hear the planning application at a meeting of the full Board (there was a paper proposing this at their December meeting).  I will consider this additional documentation in my next post on Cononish but meantime will consider here what is going on behind the scenes.
First, however, the timescales for determining the planning application.    Scotgold has been telling its shareholders all year that its revised planning application would be approved in December and mining would start early in 2018.    Under the Environmental Impact Assessment Regulations, however, changes to Environmental Statements need to be advertised and consulted on and the LLTNPA only did this on 5th January.  As a consequence the special Board Meeting they had scheduled at the end of January to consider the application cannot now be held until well into February.  That extends the time people can object to the application.
What is going on at Scotgold Resources?
While the documents relating to the Environmental Assessment were submitted under the name of Scotgold resources, the actual planning application as lodged in August was from a new company, SGZ Cononish Ltd which was incorporated on 21st June 2017.  It has two Directors, the Managing Director, Richard Gray, who is a mining engineer, and Nathaniel Le Roux, who became chair of Scotgold Resources in March 2015 (see here) and owns 25-50% of shares in the new company.  There has been NO mention of this new company that I can see anywhere on the Scotgold Resources website which makes it difficult for shareholders, the public and indeed our National Park Authority to work out what is going on.  I have been having a looking through company documentation which has revealed some interesting information.
Nathaniel Le Roux appears to have a significant control in the SGZ Cononish Ltd through his significant control in Scotgold Resources which owns it:

Meantime Scotgold's accounts show what money Mr Le Roux has been lending to Scotgold Resources over the last 15 months:

This shows that an UNSECURED 6% LOAN from Mr Le Roux which was due to be repaid in September 2018 was paid back in March 2017, i.e 18 months early, and replaced by a SECURED 10% LOAN which paid him a significantly higher rate of interest for a less risky own (as secured on the company's assets). Its not clear from the accounts how Scotgold Resources dealt with the obvious conflict of interest with its Board of Directors agreeing a far more advantageous loan to one of its fellow Directors and the main shareholder in the Company.  It is legitimate to ask however if this was in the interests of any other shareholders?
Mr Le Roux's degree of control over Scotgold Resources appears likely to increase further in the near future if it has not already done so.  On 13th November, Scotgold Resources published a Rights Issue (see here), an attempt to raise further capital, by offering two new shares for every three existing ones to shareholders and then another share for every five new shares.   Complicated, but if small shareholders do not sign up and Mr Le Roux takes up his rights, he will have ended up with a majority of shares in the company and therefore absolute control.
Mr Le Roux' shares don't appear in his own name but appear to be held by Hargreave Hale Nominees Ltd: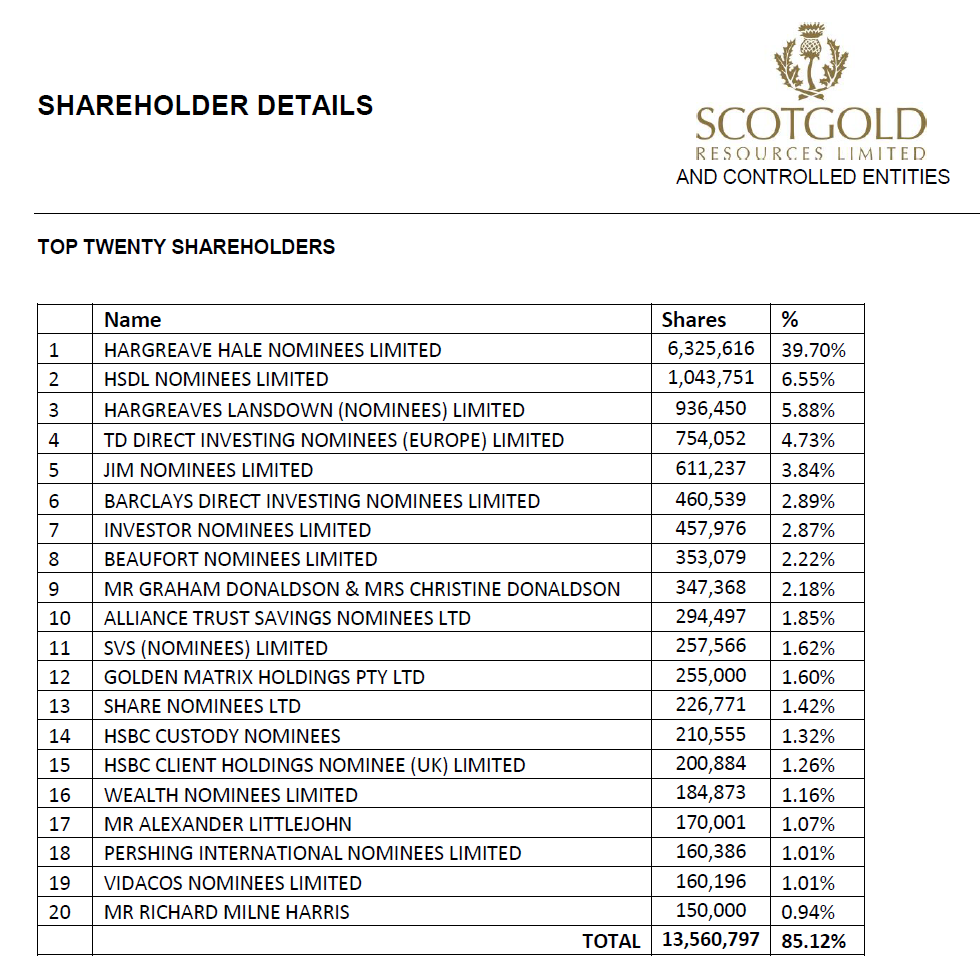 While almost the entire Hargreave Hale Nominees Ltd shareholding  would appear to belong to Mr Le Roux, for some of the other "nominee" shareholders, who holds shares on behalf of individuals, that is unlikely to be the case.   Hargreave Landsdowne, for example, deal in and hold shares for small shareholders and their holding therefore is  likely to represent holdings by a number of smaller shareholders.   That probably increases Mr Le Roux's control of the company further.
Hargreave Hale Nominees Ltd's function appears to be purely to hold shares as it does not trade and does not therefore have to lodge accounts.
While Mr Le Roux has currently waived his fees as a Director of Scotgold, Richard Gray the Managing Director earned $168,180 or approximately £100,000: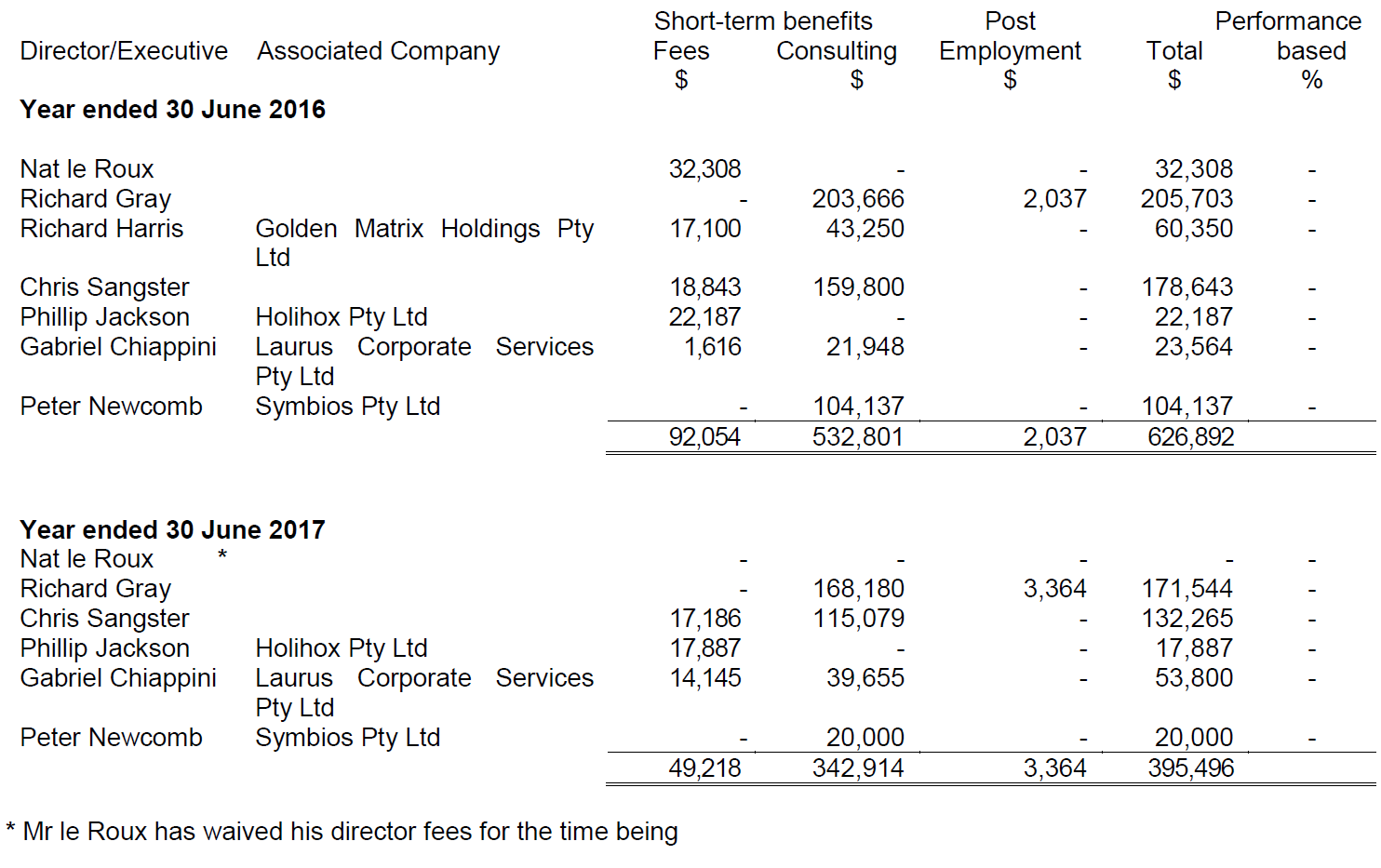 A "possible appropriate sustainable legacy"?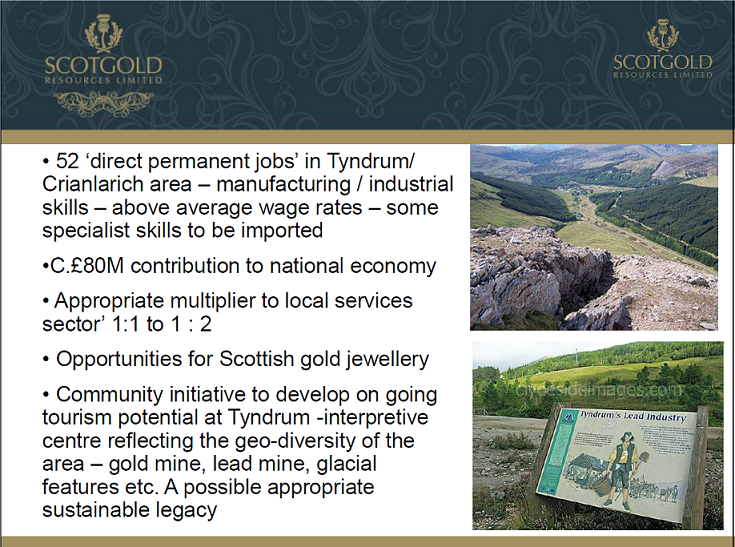 Scotgold has always presented itself as benefitting the local community and indeed committed to paying £350k over the lifetime of the mine to the Strathfillan Community Development Trust should it ever go ahead.  Now I am not against local jobs but the mine may have a lifetime of 8-17 years – hardly "permanent" jobs – while £350k seems a small price for the creation of what will be a huge dump above Strathfillan which has the potential, if it does not work, to blight it for hundreds of years.
I believe its worth contrasting the picture being sold by Scotgold with what the accounts show.  That is that the main beneficiary from the mine, should it go ahead and make money,  will be one person, Nathaniel Le Roux.  Depending on your perspective you can either see this as an example of benevolent paternalism or ruthless city exploitation.    I happen to believe that neither should have a place in our National Parks.   What price so called sustainable economic development?