By Nick Halls,  resident of Ardentinny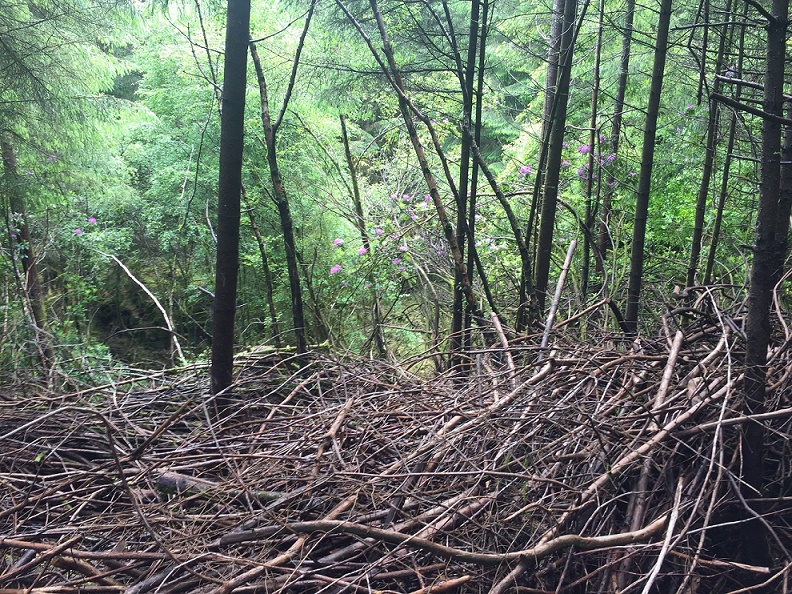 This is the third in a sequence of reports (see here) and (here) on the impact of Forestry Commission Scotland practices in the Argyll Forest Park, which forms the south western part of the Loch Lomond and Trossachs National Park.
Rhododendron ponticum, an invasive species, was apparently introduced to the area by the Victorians, to provide shelter for game birds. DNA analysis suggests that most if not all invasive bushes originate from the Iberian Peninsula. Rhododendron ponticum seems to be a hybrid species, particularly suited to acidic soils in areas of high humidity.
It has been shown to reduce the number of earthworms, birds and plants, but also the regenerative capacity of a site. In fact, where I live, there seems to be no wildlife at all.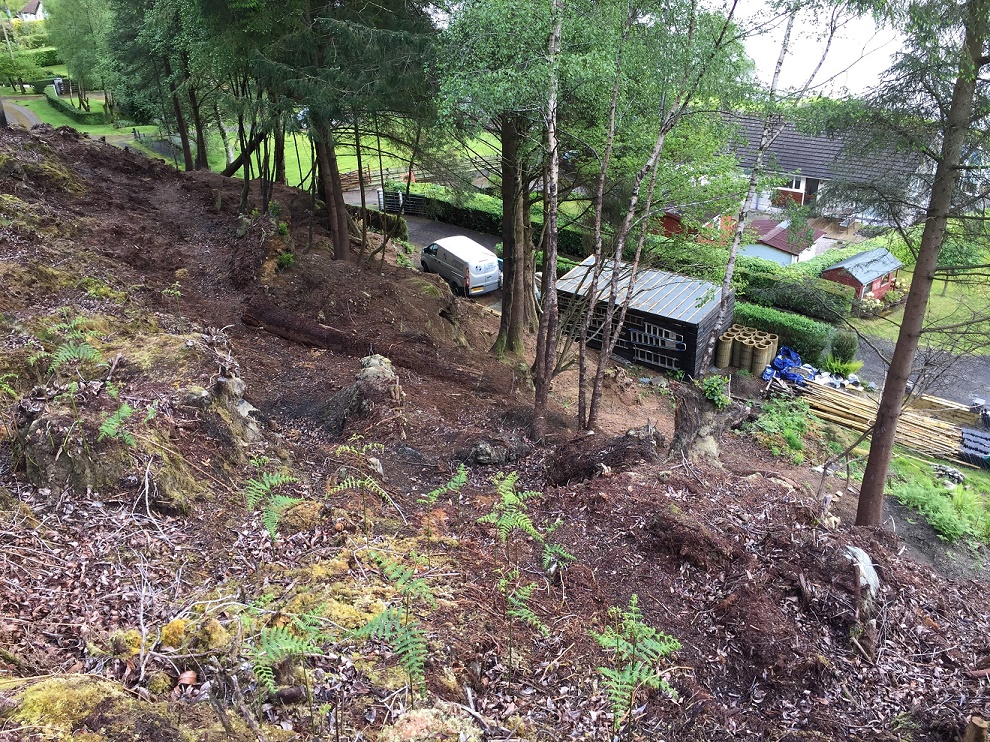 Eradication of non-native invasive species, Rhododendron ponticum.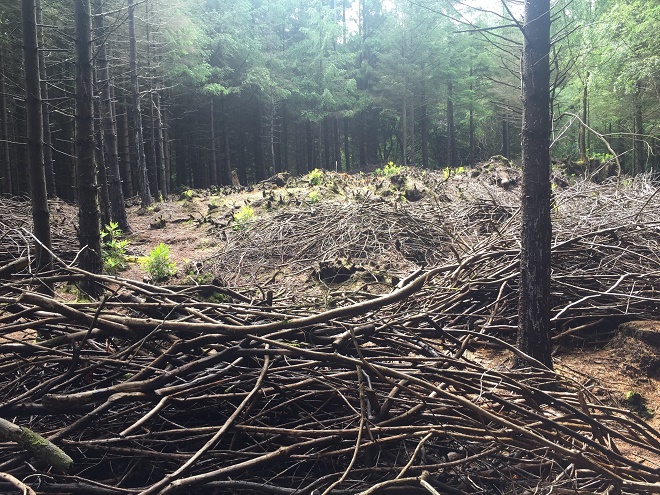 Wild Park 2020, the National Park's plan for nature conservation, included measures to eradicate non-native species one of which is:
Management to eradicate Rhododendron ponticum, from 50% of the National Forest Estate within the National Park has been put in place and clearance programmes are underway and on schedule for completion
Nothing wrong with the objective, its the way its being done which is the problem.   When I asked, I was informed that burning the cuttings was not an option due to the fire hazard to the trees, and chipping would be too expensive. It was asserted racks of branches would soon decay, and in the interim, would harbor wild life. I have seen no evidence of either happening.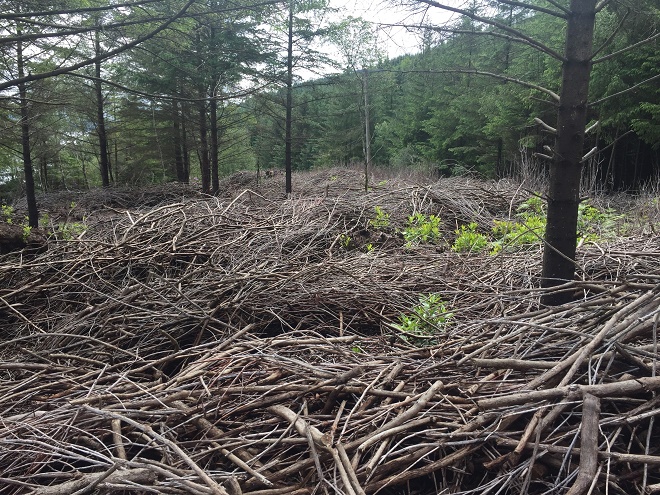 The racks of recent rhododendron cuttings, overlay two layers from previous campaigns of cuttings, separated by about a decade each. Note the regeneration of rhododendron through the cuttings, making it difficult to spray the regrowth effectively. In another decade, the area will be as bad as ever, but even more impenetrable!
Note also the relative sparsity of the surviving trees.  One would have imagined that the rhododendron cuttings could have been burned and stumps exposed to be treated, by spraying with a herbicide.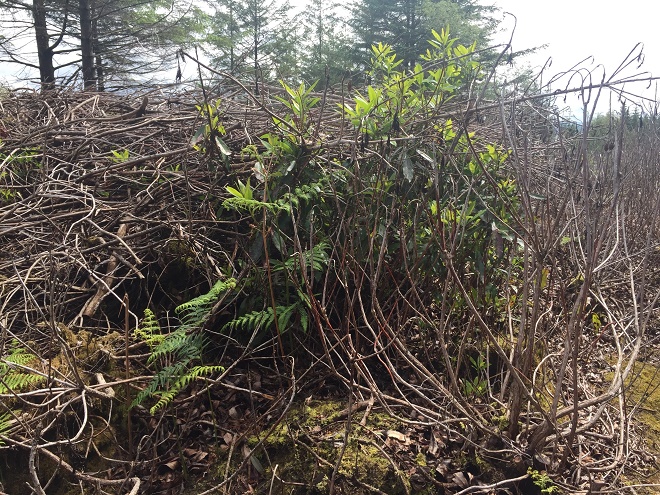 One can only come to the conclusion that the process is so poorly implemented and 'quality' checked, that public money is being wasted year after year, and no consideration at all is given to recreational use of the Forest estate.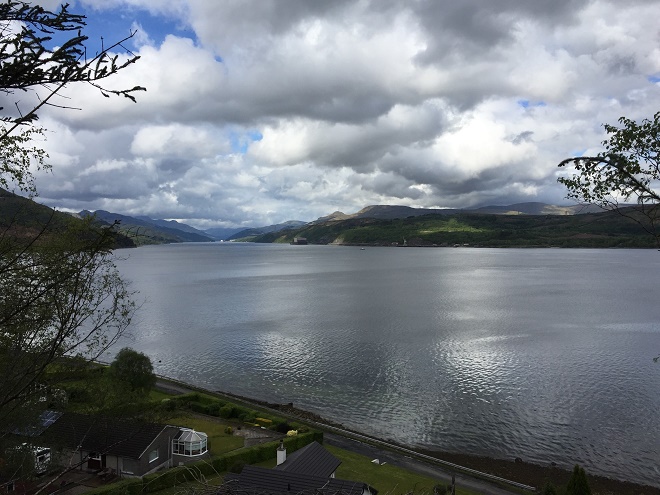 Before the most recent campaign of cutting I had never explored the area, had no idea how interesting and varied it is, and was inspired to clear paths through obstructions in order to make access possible for neighbors, particularly visiting children.   However, these are just 'desire lines' and it is Forestry policy that such informal routes will not be conserved.
The linguistics are interesting and bluntly affirm that what the public might 'desire' is sacrificial if it inconveniences forestry operations. It treats local residents and visitors with contempt.
I no longer accept this order of precedence, not in a National Park and on land held and managed in trust for the public, by a body whose founding objectives included sustaining the rural population and encouraging recreational use if the forest estate.
In a country trying to promote active lifestyles, plagued by obesity and heart disease, where children seldom have access to places where they can explore, gain self-confidence and become self-reliant in their own countryside, it makes no sense.
It speaks to a lack of coordination of public policy and/or lack of accountability of a public body, both to its original constitutional purpose and the public interest.
What needs to happen
The Loch Lomond and Trossachs National Park Authority was set up to promote and enable public access, for visitors and local people.  It appears to have  ignored the impact of FCS "conservation practices", whether these are achieving their objectives and their impact  on the public's right to enjoy the outdoors.   A new objective should be added to the new draft National Park Partnership Plan, that FCS should to develop new and more effective ways to clear invasive species such as rhododendron and engage with local people and recreational organisations to re-establish access in the Argyll Forest Park.