I had never driven along the Forest Drive, a forest track open to public motor vehicles, that goes from the Dukes Pass north of Aberfoyle  to Loch Achray in the Trossachs until Monday. The Drive, and the land 200m on either side of it which is owned by Forestry Commission Scotland, is included in what the Park calls the Trossachs North Camping Management Zone where the proposed camping bye-laws will apply.  Part of it is on a National Cycle route and the area is also used for Duke of Edinburgh expeditions.   I believe the photos that follow illustrate why camping byelaws are a draconian  response to the impacts of visitors which are not needed and raise further serious questions about why Forestry Commission Scotland ever supported bye-laws on its land.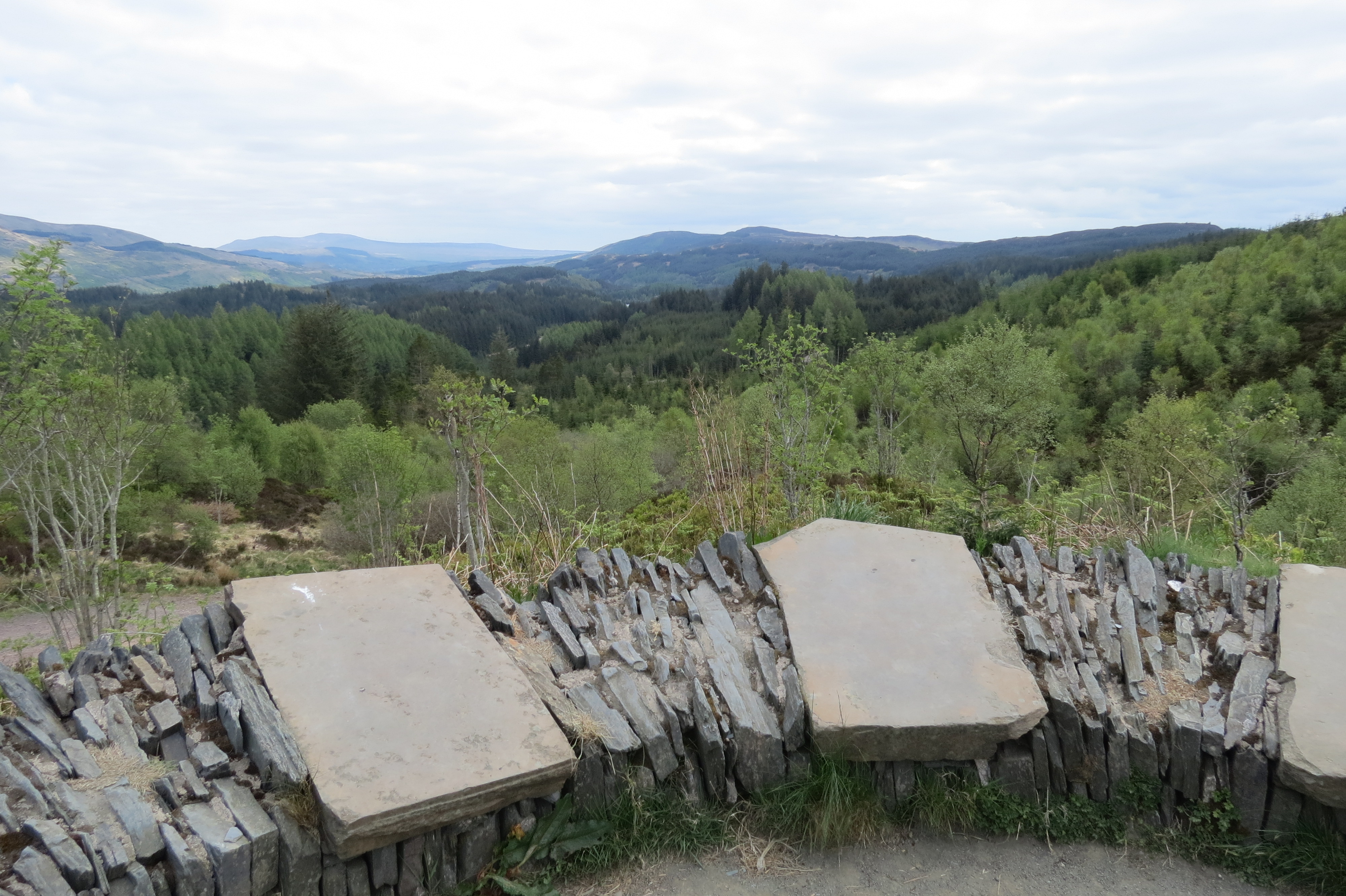 The FCS have, and rightly in my view, opened up the forest tracks that form the Forest Drive to cars and enabled people to experience some fine views.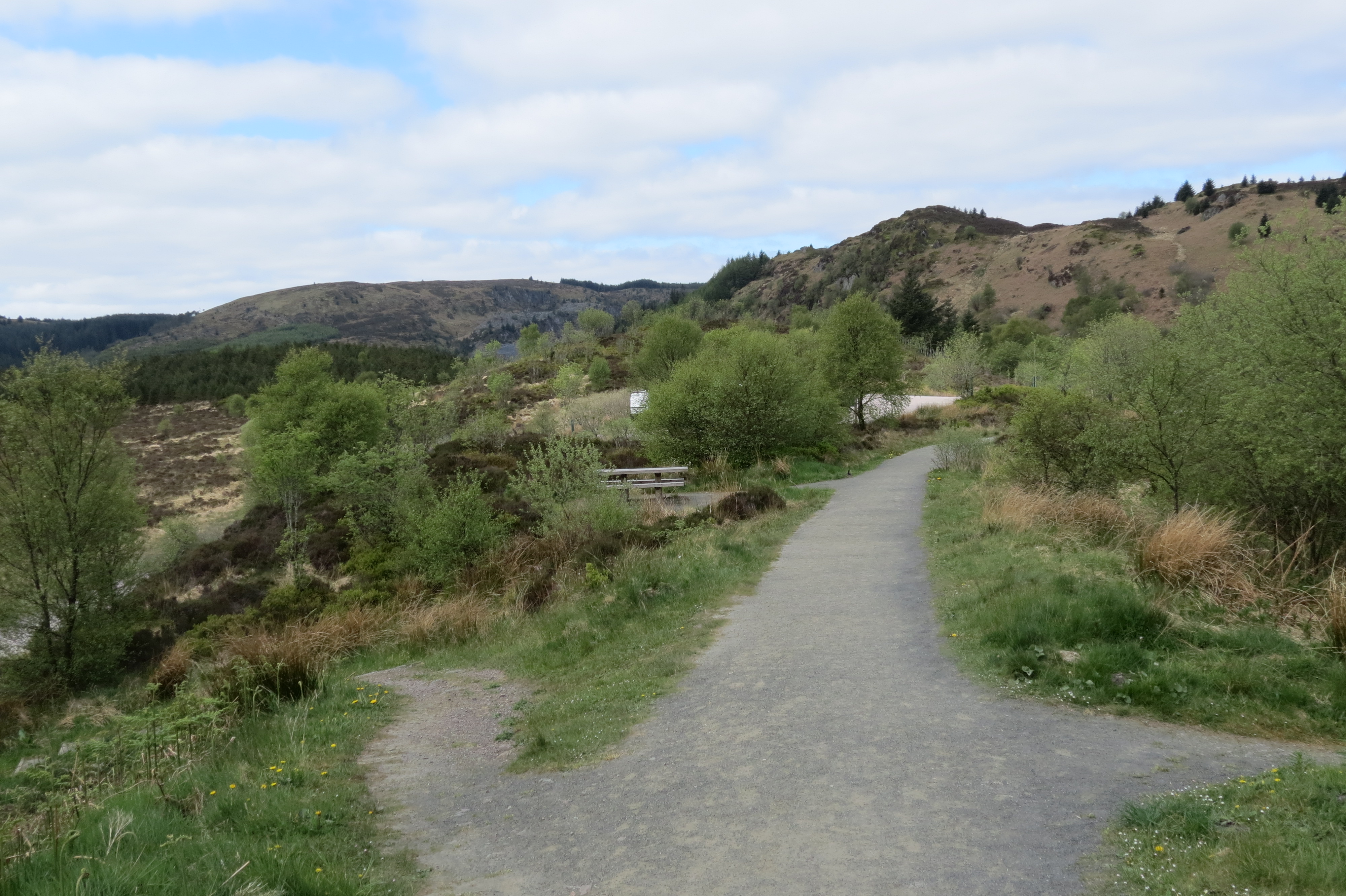 There is a network of paths, picnic tables at the largest car parking area at the highest point of the Forest Drive.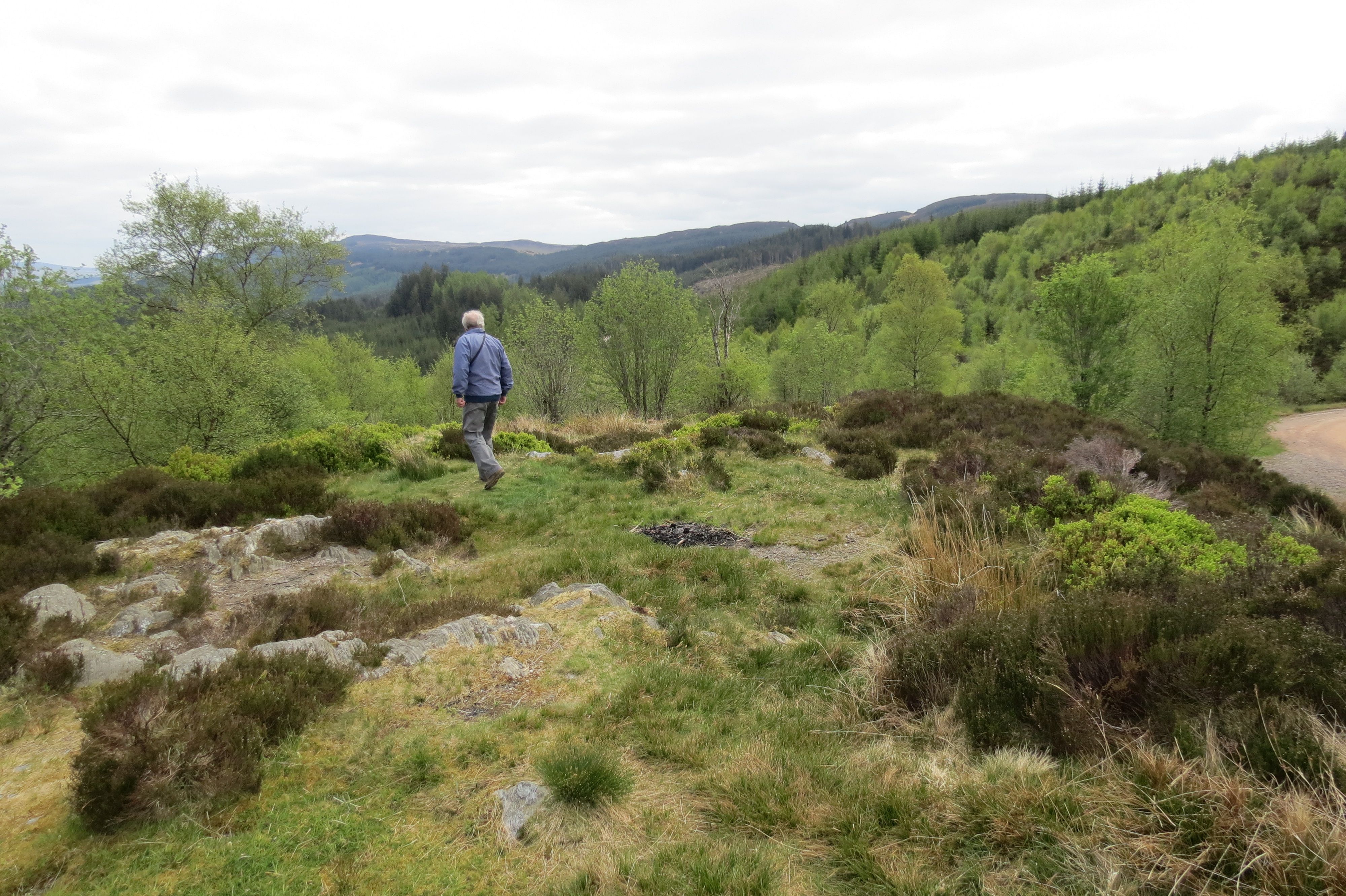 The ground here is pretty rough and while there is some evidence of camping and lighting of fires, it does not appear to have subjected to intensive use and is unlikely to have had any adverse impact on visitors leaving their cars for a few minutes to look at the view or have a picnic.  This would only be a good place to camp when the midges are out and you wanted to catch any breeze going.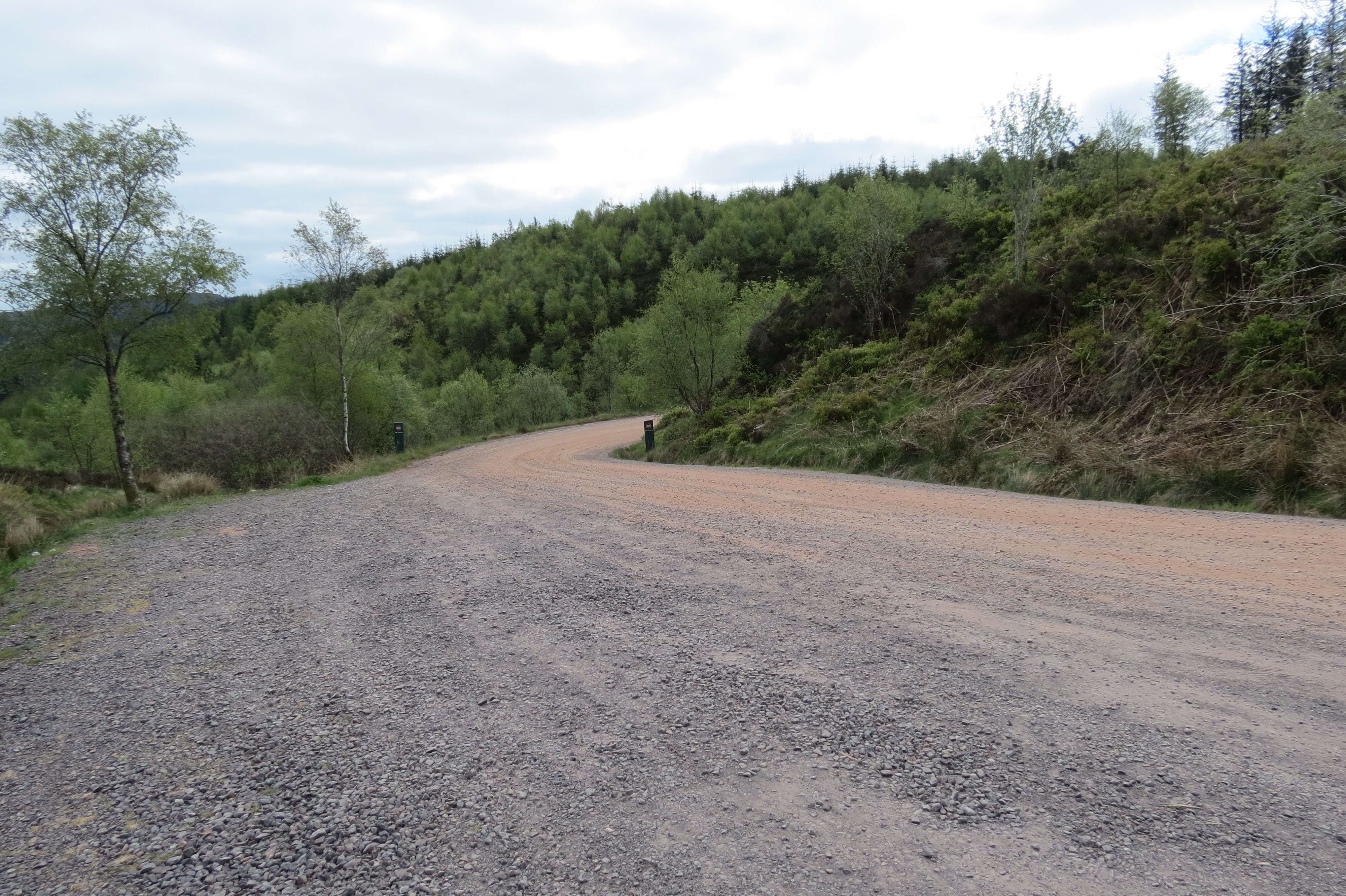 The track, which is enormous in places, has had a far bigger impact on the natural environment than visitors have ever had.  Banning camping here is not about protecting the environment, though the conversion of intensive forestry plantation into native woodland is welcome.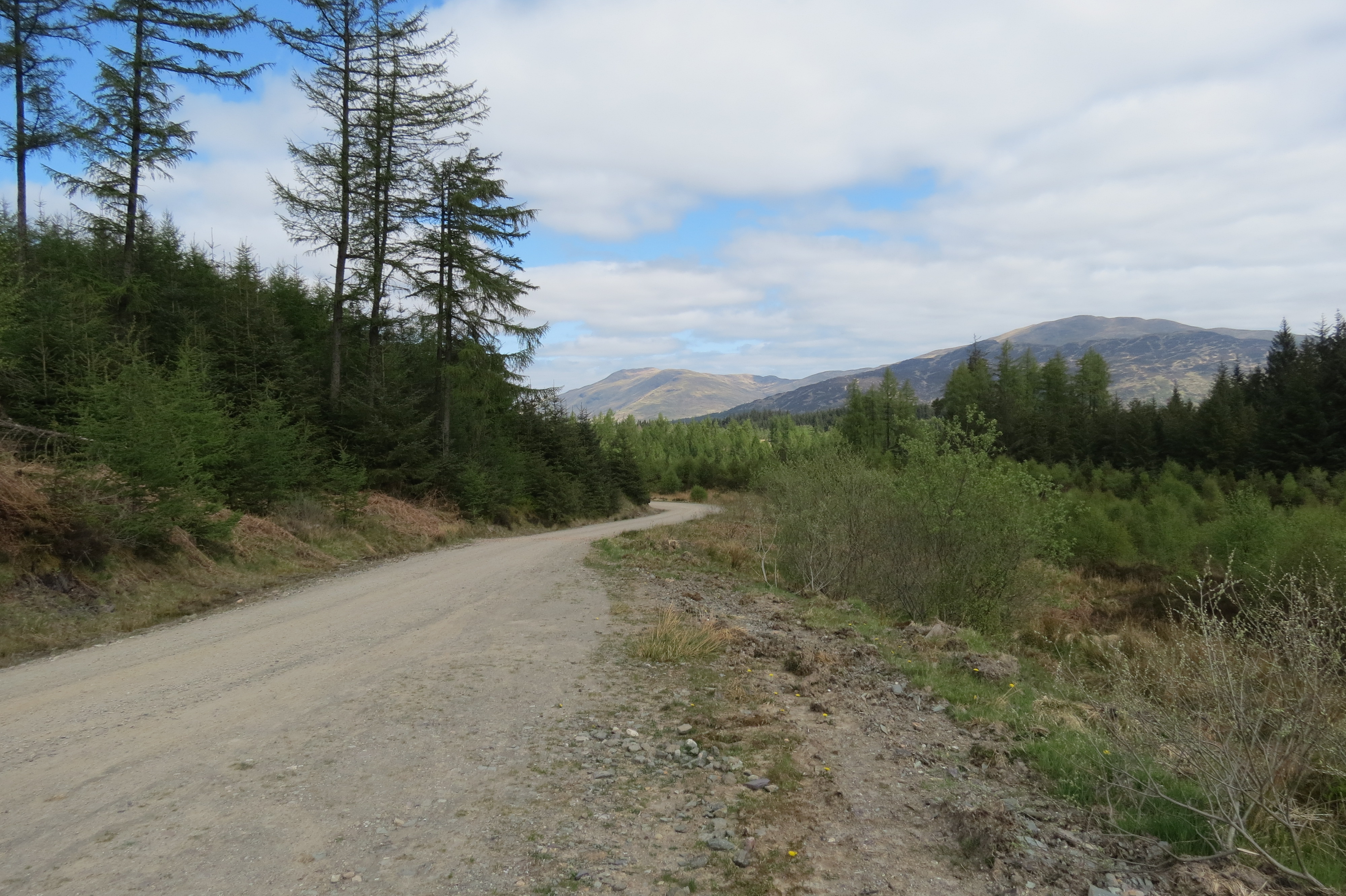 Most of the Forest Drive is still dominated by intensive forestry and subsequent forest restructuring.   It is not a good place for walking, which is why making it into a "drive" seems appropriate.  One advantage of the wide track, which is one-way,  is there is plenty of room for cyclists.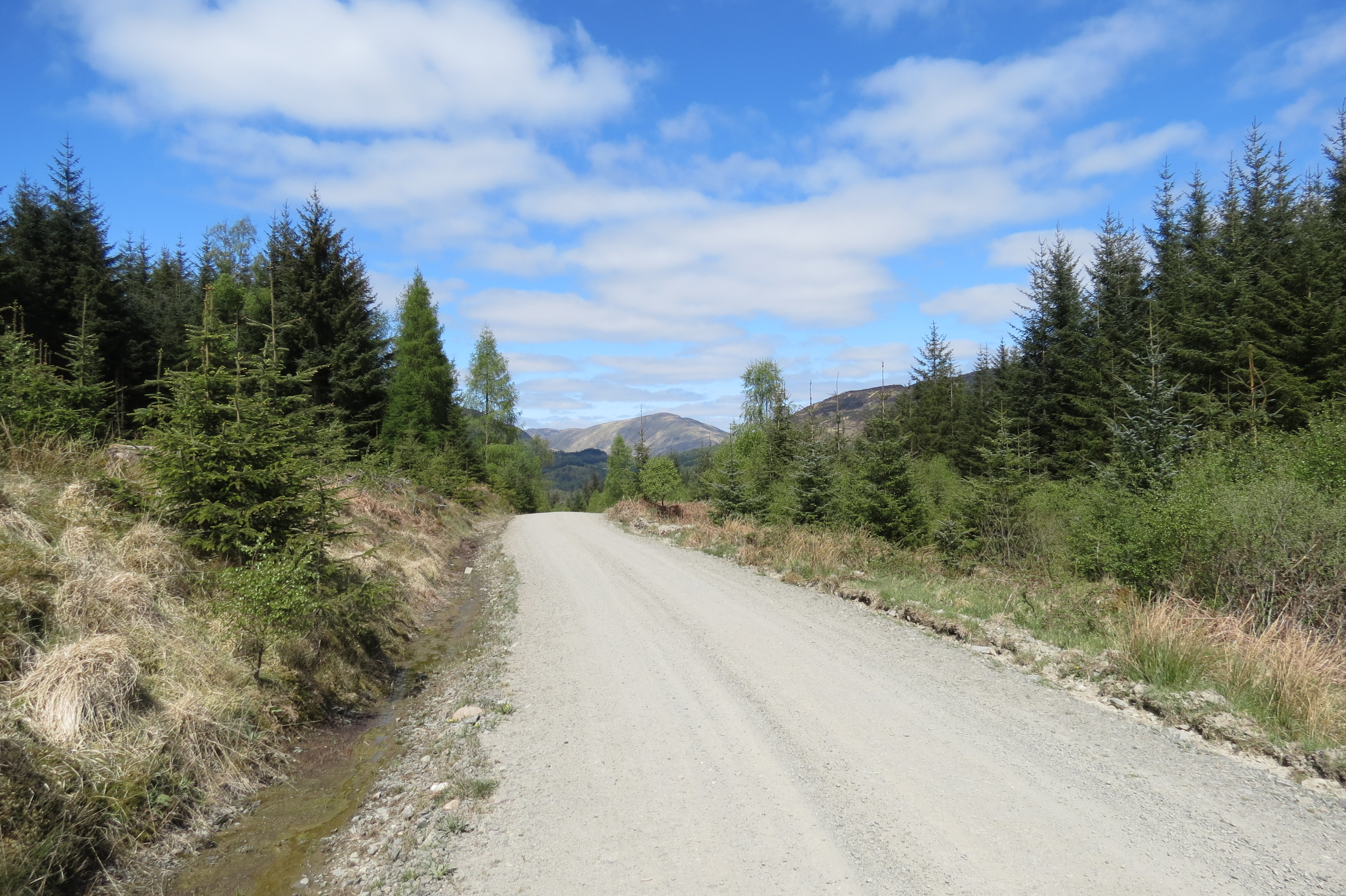 Indeed most of the roadsides are singularly unattractive for camping and the only likely reason for camping here would be in an emergency.  So why the blanket ban on camping 200m from the roadside?   What justification can there be for removing access rights here except that someone in FCS wants to control everything people do?    There are plenty of dense forestry plantations which are very rarely visited, because so unsuitable for walking, but this does not justify removal of walking  rights.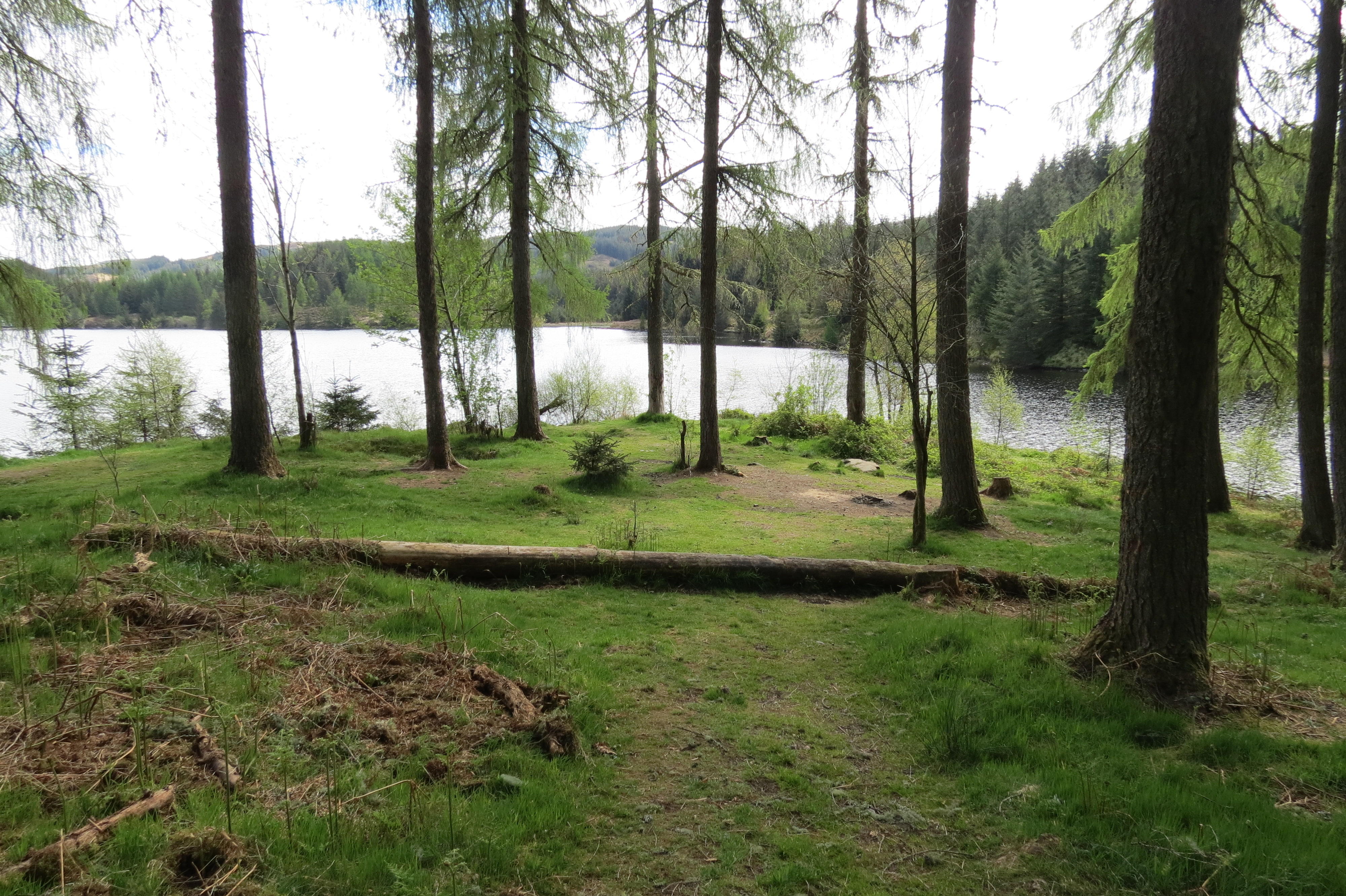 Until you get to Loch Achray, there are just a handful of places attractive for camping, all around Loch Drunkie. Any issues related to camping or other visitor impacts are clearly not about the Forest Drive but specific sites.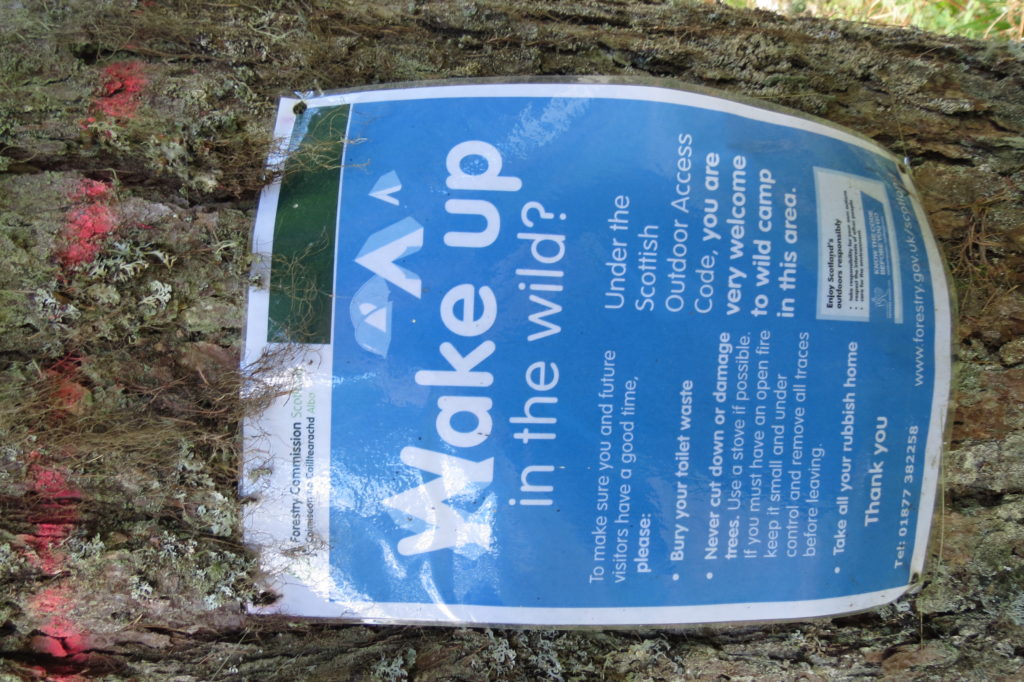 Indeed, local staff, to their credit, are still promoting camping here – with the very positive message "Wake up in the Wild" – though their senior managers and the National Park Authority want to ban it except where they approve.   What has changed?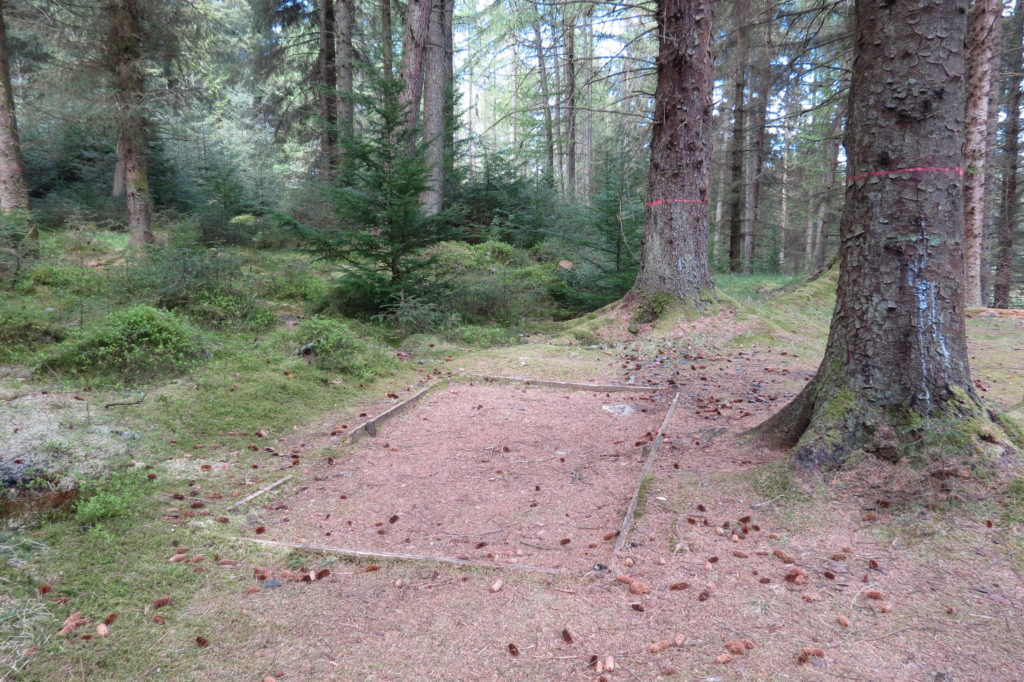 There are even what appear to be specially constructed camping places.  Its not clear if this and the other sites used for camping around Loch Drunkie will be included in the Park's new proposed permit system.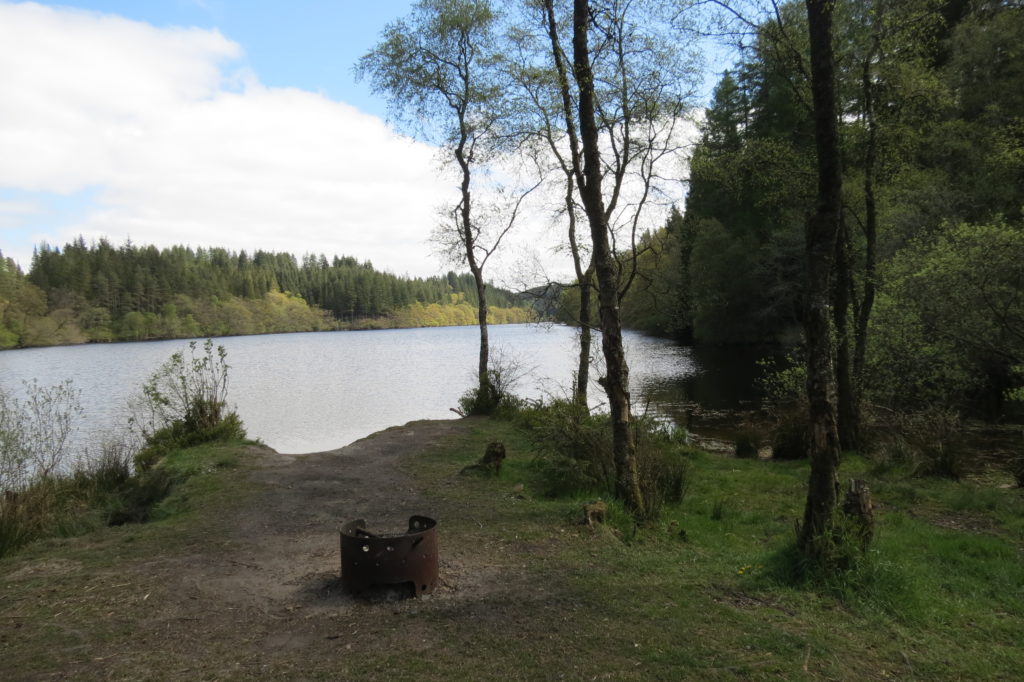 We found a barbecue facility at one site but not at the others.  If fires are now perceived by FCS to be a risk to the forest,  why not simply provide facilities such as this at the handful of sites and require all campers and day visitors who light fires to use them?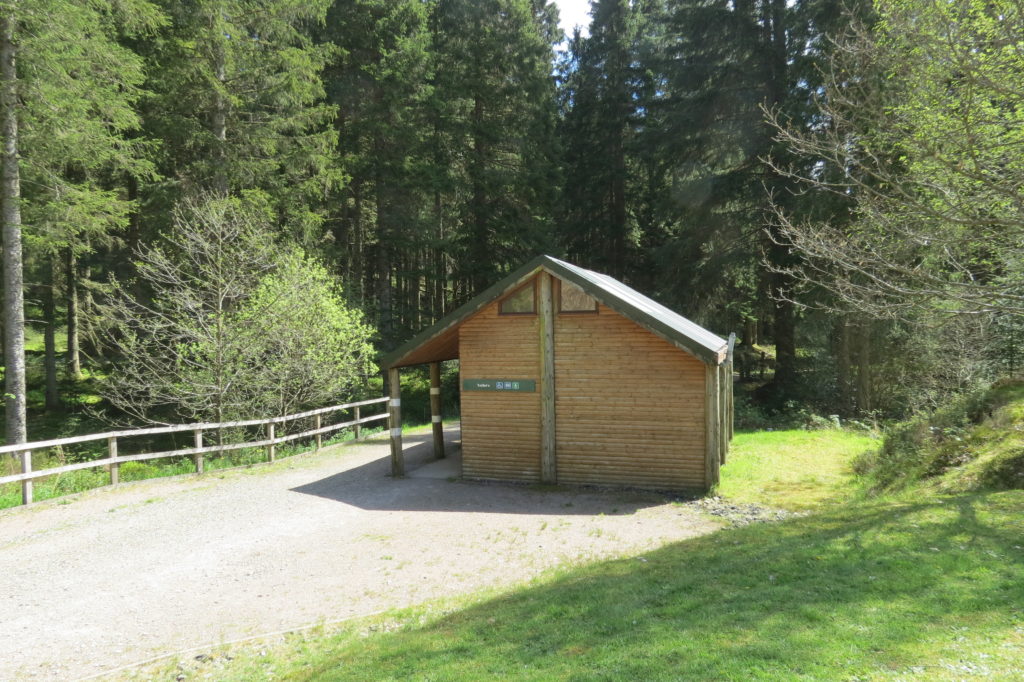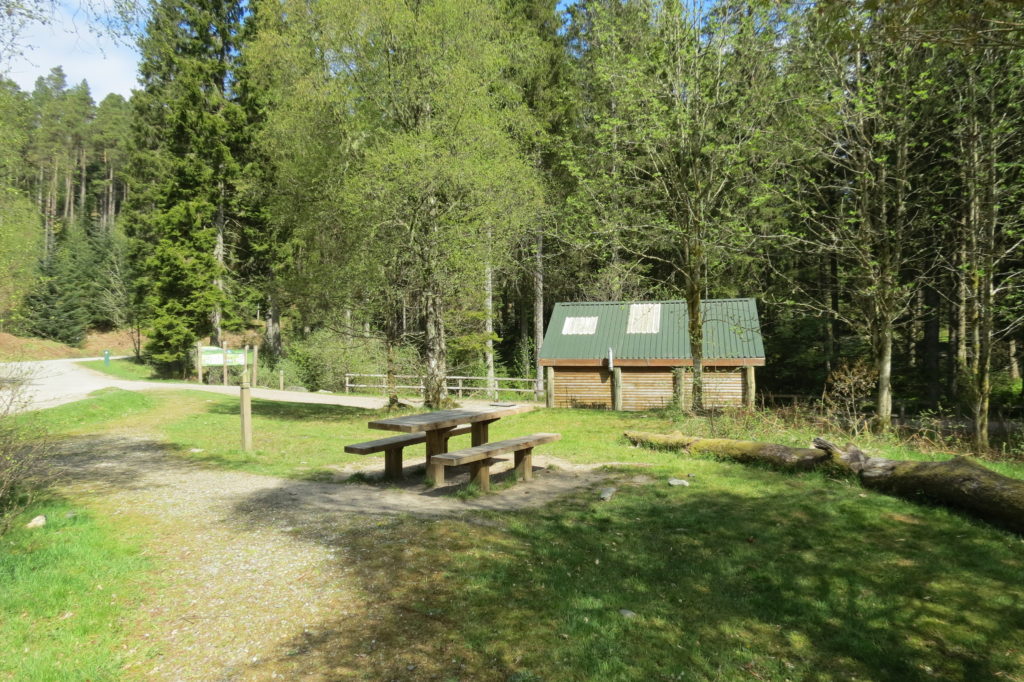 The second main stop off point along the Forest Drive by Loch Drunkie has a toilet block which could form the basis of a campsite.  It is not clear if these toilets are currently left open at night and available to campers.  There are several areas of flat ground within 100m which would make good pitches, some of which that has been used.  All that would be needed to make this a good campsite is clearing the vegetation on flat patches of ground to make a pitch, the addition of an outdoor tap and somewhere to wash pans.  This could be done  for very little cost,  unlike the proposed new campsite which the LLTNPA is paying for on FCS land at Loch Chon at an estimated cost of £345k.  Its not clear what if anything is proposed for this site because the Park has kept its camping development plan confidential saying its commercially sensitive.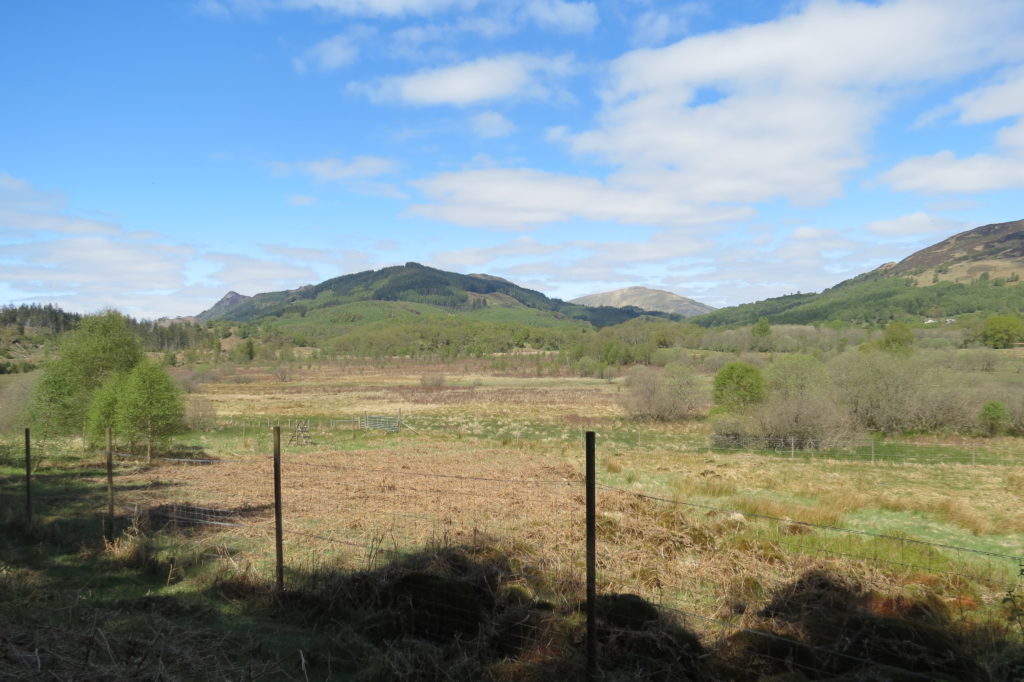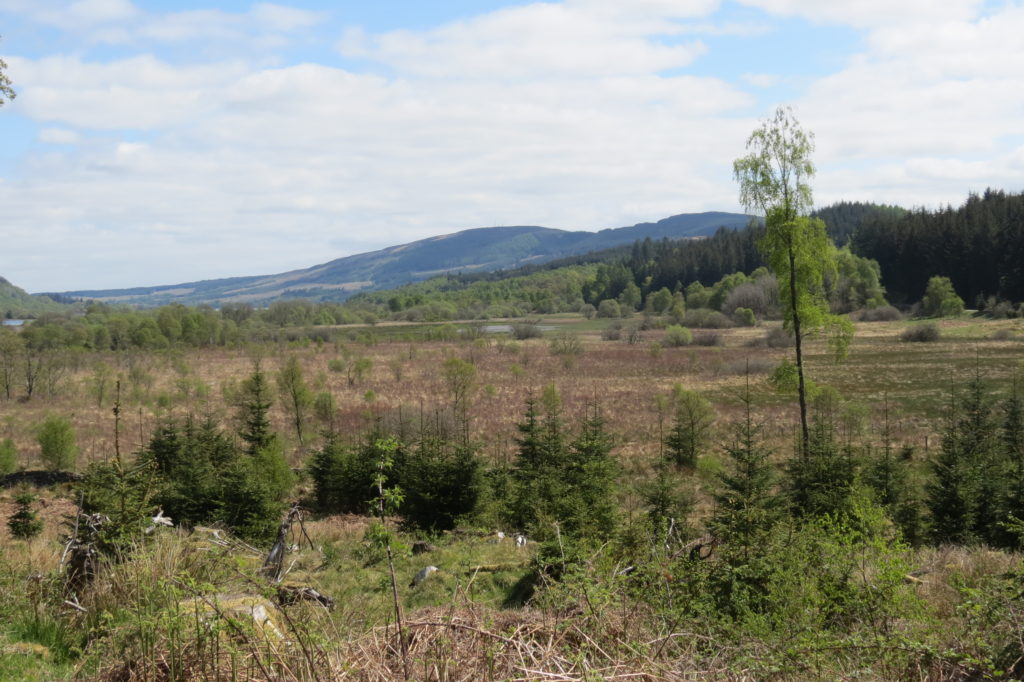 The  swathe of land to the north of Forest Drive, between Loch Venachar and Loch Achray, is marshy with regenerating trees and just as unattractive for camping as large parts of Forest Drive.    There is almost no evidence for camping her and equally hard to see any reason at all for banning campers.  The most likely parts to be used are the slopes by the Forest Drive but a high fence prevents access.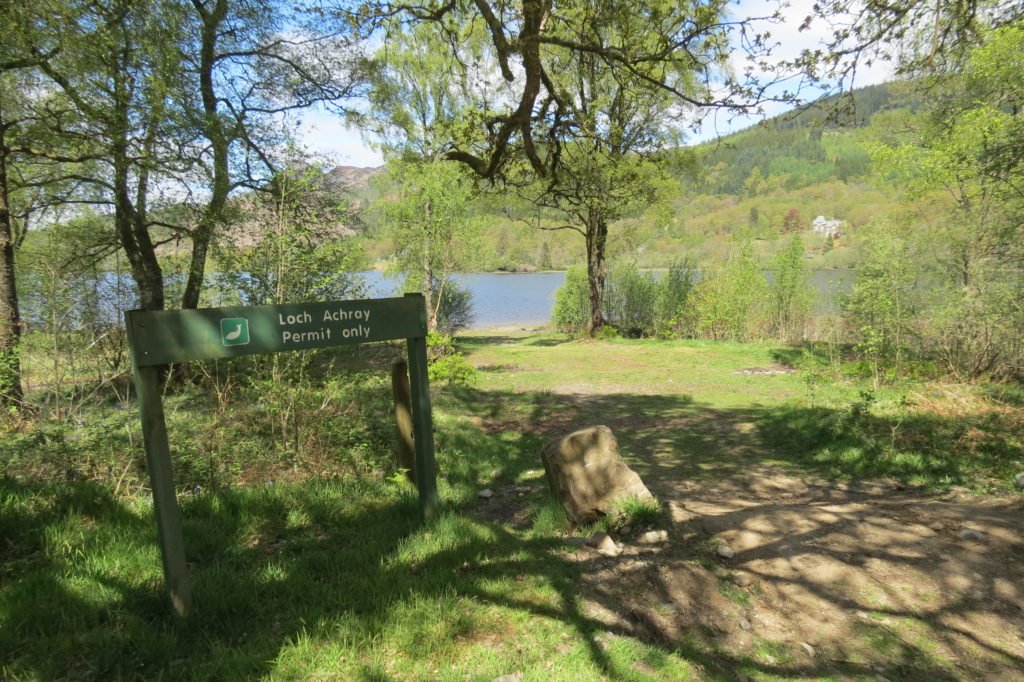 I visited the sites with Nick Halls, who is a compulsive litter picker.   At three sites around Loch Drunkie we collected perhaps half a bag of litter in all.   The worst site was a Loch Achray, where there was also evidence of a larger fire.   To put this in context, the amount of litter here was dwarfed by that Nick Halls witnessed at Duck Bay (see previous post).
This shorelines however is used by fisherman who need a fishing permit and is patrolled.  Its a mystery to me why a condition of every fishing permit is that the area where the person is fishing is kept litter free and fires kept to a small size.  Breach of the condition and you would lose your permit – it would incentivise people fishing to pick up every piece of litter they saw.  I asked the Park about this over a year ago and their feeble reply was that they had no control over fishing permits as this is a matter for landowners.   If the new Land Reform Bill included licensing for hunting and fishing, these problems could be solved and another so-called justification for removal of access rights would have disappeared.
What is bizarre about the attempt to ban camping along Forest Drive is that originally the village of Aberfoyle was in the camping management area but was removed:
6.13. On further consideration of the issues along the Dukes Pass and in the stretch of land around Aberfoyle and towards Cobeland the area was considered to be at low risk from local displacement. While some issues are experienced at Leamahamish near Cobeland (ed – to the south of Aberfoyle in the Ard Forest), it is felt that these are isolated, site specific and could be locally managed in conjunction with the existing campsite and by Forestry Commission Scotland. The Dukes Pass was initially included to create a connected link to support easy to understand management zones. A number of responses have questioned this inclusion and on further reflection the removal of this stretch of road and 200m buffer is not seen as problematic. The Forest Drive is still retained in the zone as are the main Forestry Commission Scotland car parks south of Loch Achray.
I have every sympathy with local residents not wanting to be disturbed and, if there is any case for bans on camping, it is within village boundaries (the Access Code makes it clear you should seek permission before camping close to houses).   It appears though villagers in Aberfoyle were not being disturbed because this area has been removed from the ban.    It is interesting that  Leamahamish, which is also on FCS land, was removed from the zone, basically because there were fewer incidents.   This suggests the main explanation for the ban around Forest Drive is that there were more incidents and that FCS do not want to spend ANY resources managing these even though one of their fundamental purposes now is to promote recreational enjoyment of the Forest estate.
Because of the nature of Forest Drive camping, just like in the Ard Forest, only takes place in a few places and could, like in the Ard Forest, be managed on a site specific basis.   The FCS however is keener on spending its money on purchasing land from private landowners – as in the £7.4m it paid for Rothiemurchus – than it is investing in visitor facilities.  Indeed, I suspect the purpose of the ban camping here is that the FCS is working with the Park to introduce a permit system for the handful of spots suitable for camping and is worried if they do this people will move elsewhere.  The ban is therefore fundamentally about forcing people to use certain sites, which may not have any facilities, and for which they have to pay in advance.   I would call it charging for access – something that is totally contrary to access rights.
Somewhere too at the heart of FCS's thinking about the byelaws is a neo-liberal conceptual framework which accepts cuts in public funding, re-distributes public funds to the rich and punishes the poor.  An alternative way of thinking puts people first, sees Forest Drive as an ideal place for visitors and identifies the resources necessary to manage this.