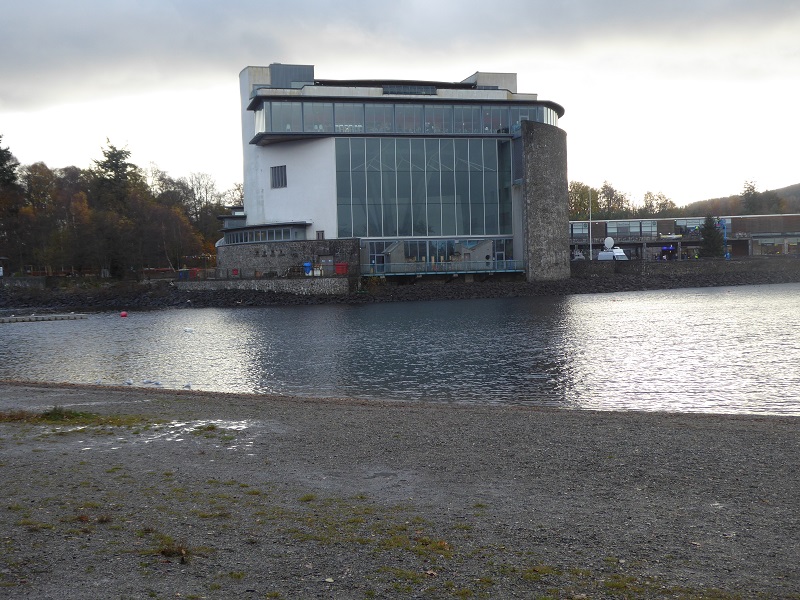 There has been a lot of community activity in Balloch since Scottish Enterprise announced Flamingo Land had been appointed developer for the Riverside Site.  You can follow this activity and thinking through a number of Facebook Groups including "Balloch Responds", "Friends of Drumkinnon Woods" and "Alternative Balloch – A Productive United Village".
Recently people have been using these pages to articulate alternative visions for the future, complex arguments rather than social media soundbites.  To me, this is incredibly exciting.    While much of the thinking is not explicitly about National Parks as such and its focus more about an alternative vision for the area, the relationship between people and the natural environment is central to it.  As such it is helping to develop an alternative vision for the Loch Lomond and Trossachs National Park which should be of interest to anyone who is interested in the future of our National Parks. .
Bruce Biddulph on Balloch and Tourism
Below is what Bruce Biddulph, who contributed a post on Drumkinnon Woods in the summer (see here), wrote on the "Alternative Balloch FB page" on 22nd November.  It is published with his permission.
"Here is, I believe, a fair summary of what is missing in Balloch, certainly from a visitor point of view:
History: Visitor's receive practically no idea of Balloch's history. In fact, none. Even although Balloch sits at the centre of Scotland's entire history, and has a wealth of historic world class interests in this regard, little is evident to them, and it is not capitalised on. This is an area that is ripe for exploitation – and there is nothing wrong with exploiting that resource for a market value – tourists expect it.
Local Produce and Provision: Sadly Balloch's stock has gone down over the past few decades.  More and more provision is 'standard'. Its two hotels and the new inn are now part of groups. there is only one boatyard in the village and no sense of Balloch as an open harbour, which is perplexing to the visitor who sees the river filled with boats but no engagement for them. The supermarket dominates to the extent it has now taken in footfall and has not spread the benefits, worsened by its taking of the post office into its back wall.
Tourist mementos: Lacking. One high end gift shop. Lack of truly Balloch branded stock elsewhere. No "Scottishness" as expected by the visitor. Little in the way for the day tripper to take away or find curiousity about. Linked to lack of historical interest in village's wider realm.
Accommodation: There may be issues with accommodation but from what I have heard it is that it is a struggle for B&B owners most the of the year Easily addressed if Balloch is made more attractive and has seasonal events created by its community of residents and businesses in co-operation with each other.
All of the above is easily achieved with no great masterplan required. Scotland has many government agencies tasked with assisting communities to grow organically and to be more sustainably productive. The missing ingredient in this is people coming forward as a community to demand their rights as a community to being enabled.
Balloch's prime disadvantage is Lomond Shores itself. It brings people into Balloch by car, but not to Balloch village itself. Therefore people going to Lomond Shores tend largely not to go any further than the retail area and leave via their cars by the same route. There is no meaningful through route or encouragement to do so. This is why Riverside and Pier Road could have been used as extensions of Balloch village.
There is so much that is positive about Balloch it makes it the envy of all other places in the Loch Lomond area. The lack in Balloch is the community of residents and businesses working together for the common good and for the fostering of other businesses Balloch requires. The above does not even bring into the equation the sheer numbers of related business scattered in its environs and the Vale of Leven that could be accommodated in a linked up and sensitively created expansion of Balloch's thoroughfares that enhance the village and riverside and protect its beauty and its open access to all. Alongside public realm that has at its heart the spirit of honest  provision for local and tourist alike. Balloch's success lies in its fusion of free space, its location, and its history of largely providing what visitors want and expect. That provision is going down, its diversity is becoming threatened by homogenisation and the proposal from Flamingoland does nothing to address the main opportunities nor does it do anything whatsoever to grow a future in the hands of Balloch and Balloch-born businesses.
Friends of Drumkinnon Woods
I have not asked to republish this so have just included the link:
Imagine the potential if our Public Agencies, instead of supporting large businesses, started to support local people and local businesses to develop proposals for the Riverside site based on the Park's statutory objectives of conservation, public enjoyment, sustainable economic development and sustainable use of resources.